Energy Vampires
by Judith Orloff MD
Re-printed from Oprah Magazine
Some people bring unexpected lightness and comfort to your life. They crackle with energy, practically electrify you with their presence. And then there are those who leave you feeling stressed out. Or guilty. Or exhausted down to your very last molecule. I call them energy vampires, and obnoxious or meek, they come in all forms. The sob sister, for one, always considers herself the victim. The world is always against her and she'll recount every horrible thing that has happened to her, wallowing in every perceived slight. The charmer is a constant talker or joke-teller who has to be the center of attention. The blamer, on the other hand, doles out endless servings of guilt. And then there's the drama queen, the coworker who claims she almost died from a high fever or the neighbor who lives in extremes of emotion-life is unbelievably good or horrifically bad.
No matter which type of energy vampire you're dealing with, you're allowed to walk away. Many of us find this really hard to do. We're afraid of being thought of as impolite; we don't want to offend people. But there are plenty of ways to remove yourself from a killing conversation. One of my favorite lines is the foolproof "Oh, you'll have to excuse me. I have to go to the bathroom." Even the most intrepid vampire isn't going to follow you to the ladies room.
When leaving isn't an option, you can still maintain your energy level by making a few minor adjustments. One of the first things to do is to recognize when you're being drained, and that beings with tuning in to your physical reactions. Is there a tightening in your chest when a certain person enters the conversation? Do you feel tired when you hang up the phone after speaking with someone? Does your head ache or do you feel what I call slimed when another guest at a cocktail party starts talking to you?
The moment you feel zapped--or hemmed in or stressed out--I recommend taking a breath. Breathing is a wonderful way to center yourself. Just follow the breath and tell yourself that you know what's happening and you can deal with it. It's important to remember our individual power. I know, from working with patients, that we lose it so easily. The minute somebody comes in who's bossy or blaming, we feel diminished and tense up. If we can focus on the breath or on an image of a striking sunset or a view from a mountaintop, the tension will drift away.
You can also use some of your own subtle energy to counter the effects of an energy vampire. Visualize a protective white light around you--an energy shield. You can still hear the person who's yelling at you or blaming you or pushing herself into your sphere, but she won-t cut into you so viscerally anymore. You-ve created a buffer zone, where her negative influences can dissipate.
Setting boundaries is another way of protecting yourself; you draw a line saying, for instance, "This is what I can do for you, and this is what I can't." You don't have to convince the vampire of the rightness of your stance. Getting defensive simply adds to the negative charge of the encounter. You want to remain neutral. When someone starts pushing your buttons and you start sizzling inside, you've got to make the decision not to react.
I also suggest you step back and think about what type of people aggravate you, because I believe that one law of energy is that we attract what we haven't yet worked out in ourselves. If I'm a very angry person, I'll find myself surrounded by angry people. By paying attention to the people who seem so draining, you might discover something you need to address. It has been my experience that once you've worked through it, you're no longer worn out by that kind of energy vampire. And the vampires, robbed of a source, move on to more easily drainable audiences.
---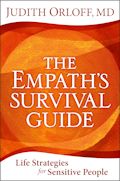 Judith Orloff, MD
is author of
The Empath's Survival Guide: Life Strategies for Sensitive People
, upon which her articles are based. Dr. Orloff is a psychiatrist, an empath, and is on the UCLA Psychiatric Clinical Faculty. She synthesizes the pearls of traditional medicine with cutting edge knowledge of intuition, energy, and spirituality. Dr. Orloff also specializes in treating empaths and highly sensitive people in her private practice. Dr. Orloff's work has been featured on The Today Show, CNN, the Oprah Magazine and USA Today. She is a New York Times best-selling author of
Emotional Freedom,
The Power of Surrender,
Second Sight,
Positive Energy,
and
Guide to Intuitive Healing
. Connect with Judith on
Facebook
and
Twitter
. To learn more about empaths and her free empath support newsletter as well as Dr. Orloff's books and workshop schedule, visit her
website.