Question: Do empaths get overwhelmed by remodeling, renovation and having a mess everywhere? The only way to the other side is through it but I've really had it…I just want to hide like a little hamster in my bed!
–Claire, from the UK
Answer: Remodels and construction are super stressful for anyone and create more intense sensory overload for empaths. Take time to meditate and get away from the chaos and noise.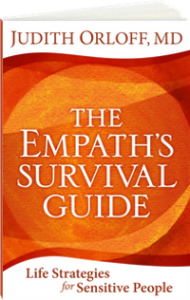 These mini-breaks for empaths will lower the excessive stimulation to center yourself. Your space will be beautiful afterwards and you forget a lot of the pain. Practice the 3 Minute Heart Meditation in The Empath's Survival Guide to dissipate stress.
Another meditation I use between patients is to close your eyes. Focus on your breath. Then gently extend your awareness downward to strata, bedrock, minerals, and soil. From the base of your spine begin to feel a continuity with the earth's core. Picture having a long tail that roots in that center. Allow the earth's energy to infuse your body and stabilize you.
Empaths are prone to experiencing sensory overload in daily life, but a remodel or renovation can intensify the feeling of being overwhelmed. The noise, the mess, the constant interruptions, the chaos, the time it takes to complete the project (which is usually at leas twice as long as contractors predict)–all this can be stressful for empaths and all the more reason to amp up your self-care during this time.
With love,
Judith
Judith Orloff, MD is the New York Times best-selling author of The Empath's Survival Guide: Life Strategies for Sensitive People. Her new book Thriving as an Empath offers daily self-care tools for sensitive people along with its companion The Empath's Empowerment Journal. Dr. Orloff is a psychiatrist, an empath, and is on the UCLA Psychiatric Clinical Faculty. She synthesizes the pearls of traditional medicine with cutting edge knowledge of intuition, energy, and spirituality. Dr. Orloff also specializes in treating empaths and highly sensitive people in her private practice. Dr. Orloff's work has been featured on The Today Show, CNN, Oprah Magazine, the New York Times and USA Today. Dr. Orloff has spoken at Google-LA and has a TEDX talk. Her other books are Emotional Freedom, The Power of Surrender, Second Sight, Positive Energy, and Guide to Intuitive Healing. Explore more information about her Empath Support Online course and speaking schedule on www.drjudithorloff.com.