Dr. Orloff, an Assistant Clinical Professor of Psychiatry at UCLA, has helped patients find emotional freedom for over 20 years. She synthesizes the pearls of traditional medicine with cutting edge knowledge of intuition, energy, and spirituality to achieve physical and emotional healing.
Dr. Orloff passionately asserts that we have the power to transform negative emotions and achieve inner peace. Her bestselling books, The Power of Surrender, Emotional Freedom, Second Sight, Positive Energy, and Guide to Intuitive Healing offer readers practical strategies to overcome frustration, stress, and worry.
"Dr. Judith Orloff is a model for balancing fierce left-brain intellect and right-brain compassion."
-- Next Ave (PBS site)
NEW PRESS INTERVIEWS!
KFI AM-Los Angeles with Dr. Wendy Walsh: Ticket to Happiness
Reader's Digest: 10 Signs You Have Incredible Empathy
Realtor.Com: Should You Really Trust Your Gut When Choosing a Home?
BBC 5 Live: 5 Personalities Found in Every Workplace »
Keys to Recovery: Learning to Surrender is Sobriety
ASK DR. ORLOFF
Are empaths meant to serve in the healing arts or are they too sensitive?
Click HERE if you have a question for DR. ORLOFF
What's New!
---
THE POWER OF SURRENDER ORACLE CARD DECK
Available NOW on Amazon »
Read Reviews »
NEW EMPATH SUPPORT PAGE FOR EMPATHS AND THEIR LOVED ONES
CLICK HERE
FEATURED PRODUCTS
Download PDF HERE Ecstasy of Letting Go: Surrender Practices to Empower Your Life AMAZON
MEDITATIONS TO EXPERIENCE
THE POWER OF SURRENDER CD
Purchase this CD NOW on Amazon » or B&N »

CLICK HERE TO DOWNLOAD
NATIONAL BESTSELLER!
THE POWER OF SURRENDER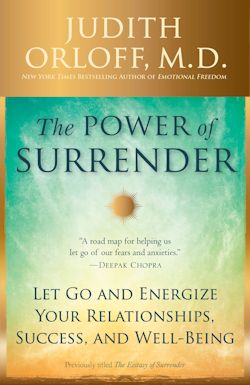 "Go with the flow. Forget trying to control every detail. Life is lots more fun and less stressful when you let go!"
ORDER PAPERBACK VERSION OF THE ECSTASY OF SURRENDER HERE & RECEIVE 100's OF BONUS GIFTS!
---
Quote of the Week
Securing your vital force is the opposite of selfish; it will increase stamina and capacity to love.
-- "Positive Energy" by Judith Orloff, MD
TO SCHEDULE AN APPOINTMENT WITH DR. ORLOFF CONTACT rhonda@judithorloff.com
Sat., August 13, 2016 - Workshop
New York Open Center
New York, NY
Sat., September 24, 2016 - Workshop
InsightLA
Los Angeles, CA
ON-LINE COURSE
INTUITION COURSE WITH HAY HOUSE
Click HERE to Download