Are you an empath? Take the test here to determine your empath score.
Being in crowds and around energy vampires can be very challenging, almost overwhelming for empaths. During times of stress their ability to be emotional sponges heightens, which overrides their sublime capacity to absorb positive emotions and all that is beautiful. If empaths are around peace and love, their bodies assimilate these and flourish. Crowds or negativity, though, often feel assaultive, exhausting.
For empaths to fully enjoy the holiday gatherings with family and friends, they must learn to protect their sensitivity and find balance.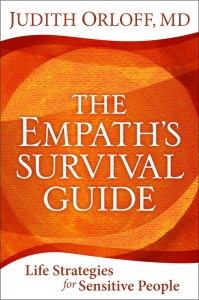 Since I'm an empath, I want to help them cultivate this capacity and be comfortable with it.
I've always been hyper-attuned to other people's moods, good and bad. Before I learned to protect my energy, I felt them lodge in my body. After being in crowds I would leave feeling anxious, depressed, or tired. When I got home, I'd just crawl into bed, yearning for peace and quiet.
Here are six strategies to help you manage empathy more effectively and stay centered without absorbing negative energies.
If all else fails and you absorb stressful or negative energy while at a gathering when you get home take a bath or shower. My bath is my sanctuary after a busy day. It washes away everything from bus exhaust to long hours of air travel to pesky symptoms I have taken on from others. Soaking in natural mineral springs divinely purifies all that ails.
Adapted from "The Empath's Survival Guide: Life Strategies for Sensitive People" (Sounds True, 2017) by Judith Orloff MD