Are you an empath? Take the test here to determine your empath score.
In my books, The Empath's Survival Guide and Second Sight I recount my journey to accept and embrace my intuitive abilities. An important part of this process was learning how to center myself so I did not absorb the negativity in the world into my own body.  Check out this article from my book with important tips about how to do this.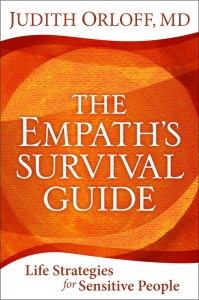 How To Center Yourself: Tips To Practice Every Day
Tip 1. Watch your diet. Notice what foods feel good, which do not. Your body will tell you what it requires. Usually, denser foods-meat, chicken, fish–have more of a grounding effect than grains, vegetables, or fruit. I'm not a big meat eater but if my body announces, "I need meat," I will eat it. Listen to your body's signals. Notice how they fluctuate.
Tip 2. Practice Anonymous Service. Do something nice for someone without taking credit for it. Hold the elevator for a little old lady. Let someone go before you in line. Serve food to the homeless. Give a charitable donation. Anything that shifts the focus from you to helping others. No deed is too small. The act of giving–especially when you're most frazzled–opens your heart, is regenerative.
Tip 3. Spend Time in Nature. As poet William Wordsworth put it, civilization can be "too much with us." People, cars, the news, telephone cables matting the sky, all can keep us from our bodies, divorce us from what is natural. Regularly take at least a few hours out from your routine. Visit the beach, a forest, a canyon, a river. Choose a spot that moves you. Aboriginals seek out windswept plains for purification. Native Americans go to fresh streams to clarify their inner vision. (Any water source, including a bath or shower, can cleanse and purify.) Tibetan monks pilgrimage to mountaintops. Allow yourself to draw on the earth's primordial forces. Savor the beauty of a twilight, sunset, or dawn. Let them nourish and restore you.
Tip 4. Meditate. Sitting in meditation is a life-line to your center, to the earth. By calming the mind, you can re-align with your essence. Close your eyes. Focus on your breath. Then gently extend your awareness downward to strata, bedrock, minerals, and soil. From the base of your spine begin to feel a continuity with the earth's core. Picture having a long tail that roots in that center. Allow the earth's energy to infuse your body and stabilize you. If you meditate for five minutes or an hour this is sacred time.
Adapted from Dr. Judith Orloff's book,"The Empath's Survival Guide: Life Strategies for Sensitive People" (Sounds True, 2017)