Are you an empath? Take the test here to determine your empath score.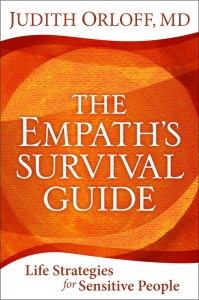 As a psychiatrist I treat many empath patients who come in exhausted with a syndrome known as adrenal fatigue. This is a collection of symptoms such as exhaustion, body aches, anxiety, trouble thinking clearly, and insomnia. In this condition, the theory is that the adrenal glands can't keep up with outside stress so the hormones such as cortisol that normally keep you energized begin to get depleted.
In my books, "The Empath's Survival Guide" and "The Power of Surrender," I discuss the very real situation of empathic illnesses where empaths literally take on the stress\ and symptoms of others. Unfortunately, conventional medicine doesn't have a context with which to understand this and many empaths are left in the lurch or misdiagnosed. Because empaths can be emotional sponges and take on the literal symptoms of others, it adds to their stress levels and leaves them more vulnerable to adrenal fatigue. To learn more about Empathic Illnesses including strategies to stop absorbing other people's toxic energy read the chapter "Harmonizing with Illness & Pain" in my book.
Here are some solutions for empaths to treat adrenal fatigue that can turn your symptoms around and restore your energy. But remember, for empaths this isn't a one-time fix—it requires some basic life style and diet changes so that you can effectively manage your energy over the long term.
Strategies to Relieve Adrenal Fatigue
In addition to these practical tips, get in the habit of practicing positive thinking. By this I mean, do not beat yourself up with negative thoughts such as "I will never feel better" or "I am weak and sick." Rather focus on the surrender affirmations I present at the end of every chapter in the book such as "I am healthy, happy, and deserve to have vibrant well-being." You might not have control over some stresses in your life but you can have control of your attitude. To relieve adrenal fatigue, you can remove a great deal of inner stress by surrendering patterns of self-loathing and embracing self-compassion and self-love!
Adapted from Dr. Judith Orloff's book "The Empath's Survival Guide: Life Strategies for Sensitive People" (Sounds True, 2017)