Are you an empath? Take the test here to determine your empath score.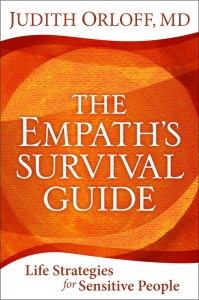 An empath absorbs the emotions of other people into their own bodies.
As an empath and psychiatrist, I know that feeling well.
Even though empaths may set excellent limits with energy vampires, it's common for us to experience "emotional hangovers," an energetic residue left over from the interaction. Toxic emotions can linger long afterwards which make you feel exhausted, beset with brain-fog, or ill. When dealing with drainers at work or at home, empaths often need time to recuperate later. In addition, try the following suggestions from my book "The Empath's Survival Guide" to remove any hangover symptoms from an energy vampire encounter.
Protection Strategies
9 Strategies to Cure Emotional Hangovers
Whenever you suspect you've absorbed emotions from someone else and feel an emotional hangover coming on, practice these strategies. They're a way of clearing unwanted energy and emotions from your body.
Adapted from Dr. Judith Orloff's " The Empath's Survival Guide: Life Strategies for Sensitive People," a guidebook for empaths and all caring people who want to keep their hearts open in an often-insensitive world.